Tales
Brothers Find Early Successes at Sloat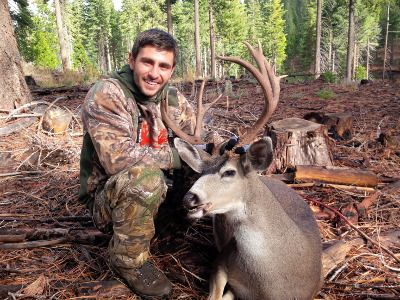 Brothers Jimmy and Jon Greco are off to a great start in their first several Golden Ram hunting trips.
On their first deer hunting trip to Sloat Ranch, Jon got his buck and Jimmy took a huge 7x4.
"We walked out off the beaten path for a few hours and found ourselves in a beautiful open area with a lot of cut down trees and saw "Zeus" just walking slowly across the hillside. Jimmy put his rifle on him and waited until he turned perfectly and put a shot right through his lungs and that was that."
A month later, back at Sloat... "Jimmy took down a really nice golden brown bear on public land opposite side of hwy 89. We hiked in for almost 2 hours when we spotted her and then Jimmy took a great shot as she ran. Took us about 2 hours to hike back to the car so it was hard earned."
Well done, gentlemen.