Guided California Tule Elk Hunts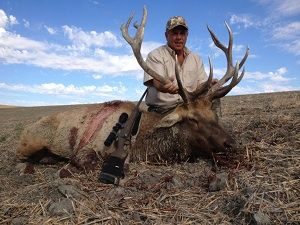 We specialize in California Tule Elk hunts. This unique species is only found in California and were nearly hunted to extinction in the 19th century. Thanks to careful preservation efforts, tule elk populations are now sustainable, in part due to the conservation efforts of sportsmen. Herds are expertly managed to preserve and grow the population, thanks in part to funds brought in from hunting. We work with the State of California and private landowners to receive PLM (Private Land Management) tags for both cow and bull elk. These tags are selectively given out to landowners to best manage the elk on their properties.
These Tule Elk are 100% free range, and can provide lean, tasty meat without being gamey or tough. Tule Elk are also one of the most exclusive big game animals to hunt in all North America, making this hunt a major highlight in many hunters' careers. We can guide elk hunters throughout the entire California Tule Elk season, from July to December. Tule Elk hunts last up to five days.
Contact us now to book your once-in-a-lifetime hunt!
• Call the Golden Ram office at 916-941-7880
• Email This email address is being protected from spambots. You need JavaScript enabled to view it.
• Fill in our contact form