Guided California Wild Hog Hunts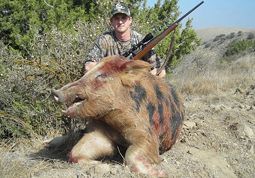 If you are looking for a fantastic California wild pig hunt, then look no further! We can provide a great opportunity for a fun, safe hunt. Whether you are a seasoned hunter or just starting out you are sure to enjoy a hog hunt with Golden Ram. You can hunt with your buddies or plan a memorable bonding experience for a father with your son or daughter.
Golden Ram offers free range wild pig guided hunts on private land. The varying terrain includes brushy canyons, rolling grain fields, open flats, and oak hillsides. All the hogs we hunt are 100% wild and free range. The wild pigs are plentiful and are prime meat pigs due to the various food sources in the area. An average pig weighs 150-200 lbs, but it is not uncommon for boars to be taken exceeding 300 lbs.
We have several options for guided pig hunts. The first option is our Standard Guided Pig Hunt. We hunt near Paso Robles, and the cost per hunter for a pig is $900 for a two-day hunt. With this option we provide a campsite location and you can camp in either a trailer or tent that you provide, and you bring your own food.
Another option is called the Standard Guided Pig Hunt with Accommodation. For $1,200 per person, we provide lodging in a cabin with running water, electricity, and a bed are included but you look after meals. With our Full-Service package at $1,450 we provide the works! We provide meals and air-conditioned accommodation. You only need to bring a sleeping bag, drinks, and hunting gear. These options can accommodate a minimum of 2 hunters and a maximum of 5 hunters. If a hunter wants to tag a second pig the cost is $650. Guide service, in-field transportation, and animal prep is included.
The second option is our Premium-Executive hog hunting experience at $1,750/hunter. We hunt for two days at a world-class ranch near Clear Lake. Included in the weekend package is a fully equipped, clean, luxurious cabin with air conditioning, satellite TV, linen beds, bathroom & shower. You and your buddies will have access to our stocked lake for fishing, a 24 station sporting clay course, and instruction from your guide on the long-range shooting setup out to 1,000 yards, not to mention hunting some of the finest land in California with our friendly and knowledgeable guides. Meals and accommodation are included for a minimum of 2 hunters with full guide services.
Contact us now to book your once-in-a-lifetime wild boar hunt!
• Call the Golden Ram office at 916-941-7880
• Email This email address is being protected from spambots. You need JavaScript enabled to view it.
• Fill in our contact form