Tales
First Pig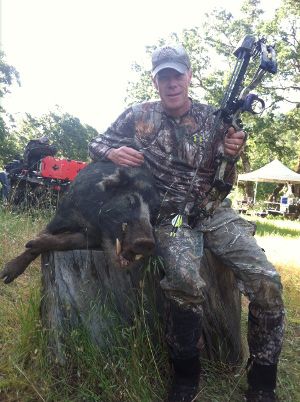 Hi Kandace,
A quick note to let you and Nick know I harvested my first big game animal since joining Golden Ram last year! I couldn't be more excited, what an absolute thrill!
Attached is a photo of me and the 200+ lbs boar I arrowed May 11 at Hedgpeth Ranch. Dan Verhage took the photo and took time out of his hunt to help me with the haul out and butchering process. Keith Peschel, who I met at camp that morning was also there and provided us with great insight, lively banter, some good knives and the name of a fabulous taxidermist, which I just hired.
I can't thank my new hunting friend Bill Laferty enough. Bill helped us butcher but more importantly he introduced me to Hedgpeth and Golden Ram and "guided" me on my very first hunt. Both Bill and Dan have taken me, a complete novice under wing, have shown me the ropes and provided me with all kinds of guidance and encouragement since I joined the club. Couldn't have harvested this trophy with out their invaluable help.
Thanks for all you guys do at Golden Ram. You've got one very happy member here!
All the best,
Doug Hiemstra