Tales
My Brother's First Hunt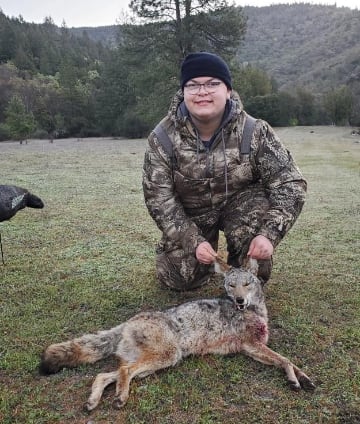 I took my brother Marcus, who is 17 out for his true first hunting experience. We originally wanted to go turkey hunting, so I woke him up at 5AM so we could head out before the sun rose and got to our blind at about 6 am. We tried to use a locator call to startle the turkeys to get them to gobble, but only heard one a long way away. At shooting light, I took out my slate call and gave it a shot.
Within a minute, my brother spotted something and said "Tyler, look! There's a fox!" I looked off to my left and I saw something moving in the distance but it disappeared before I could get a good look. About 30 seconds later I saw some movement about 50 yards in front of me in the tall grass. I looked closer with the binoculars and barely got a glimpse of a coyote before it disappeared again. When he popped out again, I turned and quickly got set to take a shot. I squeezed the trigger and watched him drop in the scope.
My brother turned to me and excitedly said " you just dumped him in his tracks!" I think my brother was more excited than I was, even though this was also the first coyote I had ever shot. I gave him about 20 minutes and didn't see him move again after the shot, so I decided to go grab the coyote. I brought him back and my brother wouldn't leave him alone. It was such a great feeling to see that big smile on his face and it just goes to show what hunting can do for people. He had a great first hunting experience and is super excited to go again soon this time to actually get turkeys!. Thank you again Golden Ram for another great hunting experience and getting people hooked on the sport!
Big Brother -Tyler L.