Tales
Bar Z Feast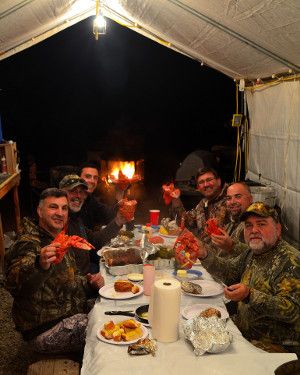 These guys know how to live it up on the ranch during the late season archery hunt.
Kenn Lipke reports...
I just realized I never sent you a picture of our late season feast we had at Bar Z during my A-30 hunt. Nothing quite like a Steak and Lobster dinner to help carb building for a week of hunting. Mike Simonini provided a huge cross rib roast that we ended up making HUGE steaks out of and Bob Disco brought the Lobsters and all the fixings to make the Lobster Boil which included corn on the cob, artichokes,whole garlics and Louisiana hot links. And as if that wasn't enough, we also had baked potatoes and garlic bread and few bottles of wine to wash it down. That's how to live it up Golden Ram Style in the late season at Bar Z.
 
Along with Mike, Bob and I are Tom Alden, Rob Alden and Mike Viana.