Family Weekend 2014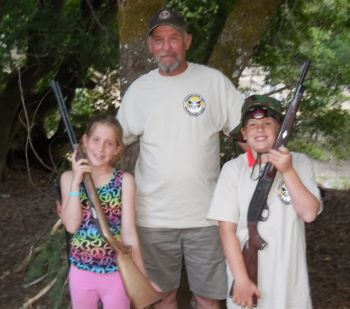 So, if you are a Golden Ram member and you have kids and you were not at the Hedgpeth the weekend of June 21st, then you missed out on some great family entertainment!!  
On June 21, 2014, Golden Ram celebrated its 3rd Annual Family Camping Weekend at the Hedgpeth Ranch.  It was a crammed-packed weekend filled with rifle instruction, skeet shooting, survival training, swimming, raffles and more.  
Friday night saw everyone gathering at the ranch and getting set up to enjoy the weekend.  Then Saturday began bright and early with all kids getting a fire arms safety course from our own GR member, Buck Buchanan.  After the initial orientation, the kids benefited from having Buck spend most of his day at the shooting range providing hours of 1:1 instruction to the kids on rifles, skeet, xxx for as long as the kids wanted to shoot.  And they all wanted to shoot…a lot…a group of them had to be dragged back for dinner at the end of the day.  
At another station, Colton Finn (13 yrs) provided instruction in various survival techniques.  Colton taught the kids how to build a shelter, how to set survival traps and how to build a fire with without matches.  On Saturday night, Colton even slept in the shelter he built!  
Special thanks to Jerry Shimmel and Pat Christen who donated prizes and helped on the shooting range.  You'll see Jerry and Pat on the ranch as they are patrolman.   More thanks to Gary Fontaine and Tom Lewis for their help with activities.   Tom was especially generous in that he donated three guns for the kids raffle event.  One pellet gun and two .22 caliber rifles.
We ended up with an impromptu pot luck dinner that was anything but potluck.  It included bear burgers, elk sausage, wild boar sausage, venison and elk steak.  A wild game feast fit for the best restaurant in all of California.
On Saturday night, the ever popular raffle event was held.  All kids as well as most of the adults managed to score a few prizes. The highlight of the night was the draw for the grand prizes of two 22 rifles and the pellet guns generously donated by Tom Lewis.  Tom Lewis stipulated that one boy and one girl were to be the winners of the .22 rifles.  As you can see from the attached picture Jacob Wise and Lydia Finn were the lucky prize winners.  
All in all, a fun time was had by all.  Already folks are providing suggestions on what they want to see for next year.  If you missed it this year, put it on the calendar now for next year.